VP8000
From W3AXL Wiki
Jump to navigation
Jump to search
The EF Johnson / Kenwood Viking VP8000 is an all-band public safety P25 radio, released in late 2022 as a competitor to the Motorola APX8000 and Harris XL-200p all-band radios.
Hardware
Keyloading Pinout
The VP8000, like the other radios using Kenwood's universal connector, can be keyloaded from a KFD keyloader using the KPG-93 cable, whose pinout is shown below.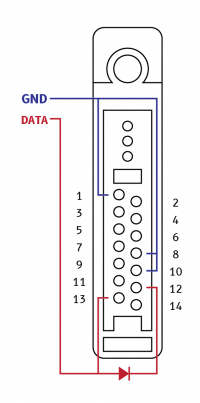 Programming Cables
Officially, the radio can only be programmed with the KPG-236XU cable, which is expensive and hard to find.
Using the KPG-36X
The KPG-36X can be used with the VP8000, depending on the revision number. Units of revision 03550 or lower will function fine. Units of revision 03351 or newer will need to be modified to work with the VP8000 due to slight differences in the ciruitry.
The following information is from mpron on the Communications.Support forums. Two ferrite beads on the mainboard of the cable must be bypassed, and the pins connecting to the radio accessory connector must be rearranged.
Kenwood also released an official service bulletin advising of the same modifications to newer-revision KPG-36X cables:
File:FSB-1222-KPG36X-VP8000-Mod VP8000ProgrammingCableMod.pdf
The KPG-36z
The cable from BlueMax49ers has also been confirmed to work 100% with the VP8000.
Software
The VP8000 uses EFJ's Armada software suite, available from EF Johnson for a reasonable price. The radio can be programmed via USB, Bluetooth, or WiFi (using OTAP server).