XTL1500/2500/5000
From W3AXL Wiki
The XTL1500, XTL2500, and XTL5000 are three closely-related single-band mobile radios, all part of the Astro25 series of Motorola radios.
Hardware
Using a standard Odyssey TIB with a W3 Control Head
<to be added, it's possible!>
Dual Brick W3 Configuration
XTL5000 only
Two XTL5000 radios can be configured to run on a single W3 control head. This configuration requires special wiring of the remote head cabling, and specific codeplug and flashcode options. See the below guide: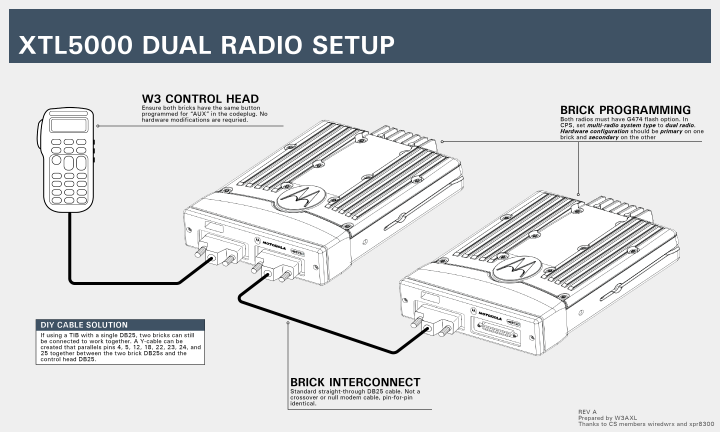 Software
Flashport Options
These radios share the common Astro25 flashport option set.
Out of Band
See the Hex-Edit Method. All three mobiles will operate in the ham bands without issues, although 900MHz models may exhibit some slight desense due to filter bandwidths.
W-Series Flashzap Mode
To put the W-series head XTL5000s into flashzap mode, the normal button combination does not work. Instead, you can connect to the radio serial port via a terminal program such as putty or hyperteminal. The command AT#FZAP=1 will put the radio into flashzap mode. However, please note that the head will show no indication of the radio state, and the only way to exit flashzap mode is to reboot. Proceed at your own risk, as the dirty flash method of firmware upgrading is even more risky with no indication of progress.